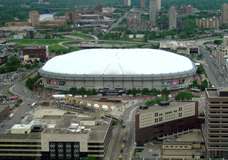 Digital News Report – The Minnesota Vikings fans have been using a weapon this year giving their team the advantage at home: noise. The Metrodome is the perfect place to produce a deafening noise and confuse the opponents.
The Vikings have won every game at home, but they lost to the Saints in New Orleans on Sunday. An over-time field goal sewed it up for the Saints, sending them to Super Bowl XLIV against the Indianapolis Colts.
There were a lot of Saints fans in the stands Sunday, taking some of the wind out of the Viking advantage.
So what are decibels (dB)? Similar to the Richter Scale used to measure earthquakes, sound is measured using a logarithmic scale. Decibels are a measure of intensity and sound "pressure".
For each decibel the sound pressure is increased by a factor of 10. This makes measuring low sound levels more precise.
The party is just getting started in the Superdome tonight as the Saints are given the NFC trophy.
Correction – We called the Superdome the Metrodome in the title.
source :
http://www.digitalnewsreport.com